KCMET K.C Mahindra Scholarships for Post-Graduate Studies Abroad 2018
Organisation : K. C. Mahindra Education Trust KCMET
Scholarship Name : K.C Mahindra Scholarships for Post-Graduate Studies Abroad 2018
Scholarship Deadline : 15-04-2018 (Date Extended)
Website : http://www.kcmet.org/what-we-do-Scholarship-Grants.aspx
You can now ask your question on this scholarship.
Ask here
(OR) Go to the bottom of this page for comments.
KCMET Scholarships for Post-Graduate Studies Abroad
K. C. Mahindra Education Trust has granted interest-free loan scholarships to deserving students to pursue post-graduate studies abroad in various fields.
Update : K.C Mahindra Scholarship For Post-Graduate Studies Abroad 2019 : www.scholarships.net.in/34810.html
Every year, we offer scholarships, as given below:
1) A maximum of Rs.8 lakh per scholar, awarded to the top 3 K.C. Mahindra fellows
2) A maximum of Rs.4 lakh per scholar, awarded to remaining successful applicants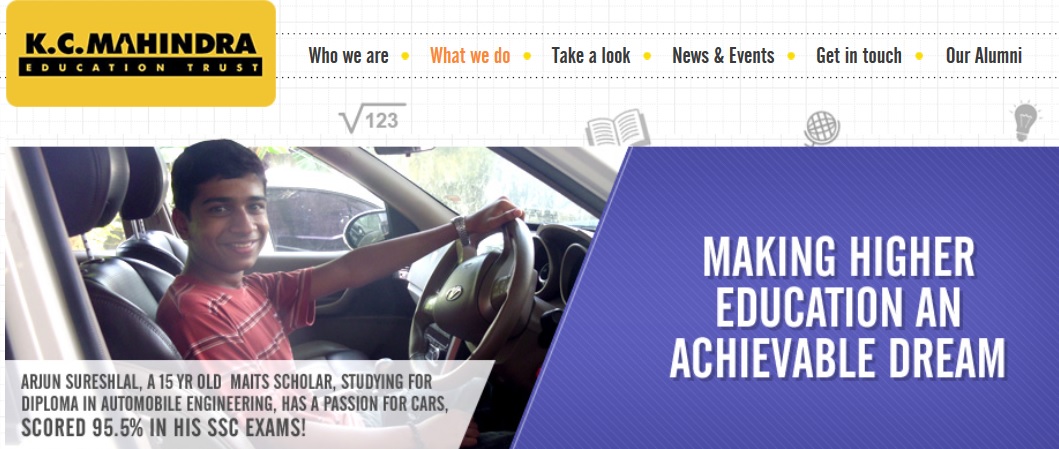 Eligibility Criteria
1) Applicants must possess a First Class degree or equivalent diploma of similar standard from a recognized University.
2) Applicants must be Indian candidates who have secured admission or have applied for admission in foreign universities for courses commencing from August 2018, but not later than February 2019.
Online Application Form
Go to the official website of K. C. Mahindra Education Trust and Click Apply Online Application Form in the bottom of the page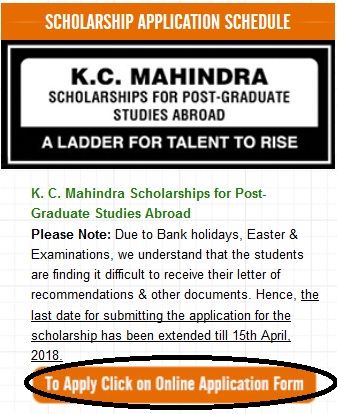 Fill the following details
Step 1 : Upload Your Photograph [Please upload photograph with naming convention as – FirstName_LastName_Photograph. Eg: John_Smith_Photograph]
Step 2 : Enter Your First Name [Abrajit]
Step 3 : Enter Your Last Name [Kumar]
Step 4 : Enter Your Std. Code [044]
Step 5 : Enter Your Telephone [21345678]
Step 6 : Enter Your Mobile [9999999999]
Step 7 : Enter Your E-mail address [abc@gmail.com]
Step 8 : Enter Your Permanent Address [123A/B Sir Thyagaraya Road, Pondy Bazaar, Parthasarathi Puram, T Nagar, Chennai]
Step 9 : Enter Your City [Chennai]
Step 10 : Enter Your State [Tamil Nadu]
Step 11 : Enter Your Pincode [600017]
Step 12 : Enter Your Date of Birth (DD/MM/YYYY)
Step 13 : Enter Your Age [19]
Step 14 : Enter Your Marital Status [Single/Married]
Step 15 : Click Next button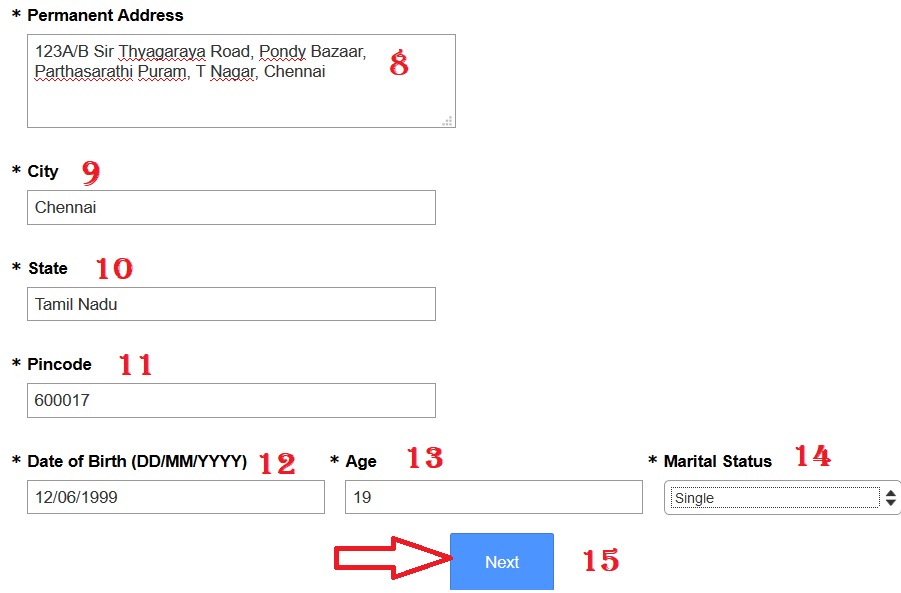 Note :
1) The application process for the 2018 scholarship program will begin at the end of January 2018
2) The last date for submitting the application for the scholarship has been extended till 15th April, 2018.
3) Students going abroad for undergraduate studies, seminars & conferences and are not eligible for this scholarship.
For queries on the K. C. Mahindra Scholarship for Post Graduate Studies Abroad please contact Mr. Kieran Rodrigues on rodrigues.kieran AT mahindra.com or call on (022) 2289 5526
Mahindra Search for Talent Scholarship
This scholarship is awarded to students obtaining the highest aggregate marks, based on the year end examination. Further, a student who receives the Mahindra Search for Talent scholarship more than once, is awarded the 'Honour scholarship' which includes a cash prize of Rs. 5000/- and a citation from the Trust.
K.C. Mahindra UWC Scholarship
This scholarship is offered to deserving students in the age group of 16 to 18 years. These students are given an opportunity to study at the United World Colleges. This scholarship aims to ensure that students benefit through the experience of international education, shared learning and community service which the Mahindra United World College is offering.
Contact us
K. C. MAHINDRA EDUCATION TRUST
Cecil Court, Mahakavi Bhushan Marg, Mumbai 400 001.
Tel.: (022) 2289 5526 / 2289 5500
Email ID : rodrigues.kieran AT mahindra.com