mysy.guj.nic.in : 2017-18 Mukhyamantri Yuva Swavalamban Yojana Scholarship Gujarat
Organisation : Gujarat Education Department
Scholarship Name : Mukhyamantri Yuva Swavalamban Yojana Scholarship 2017-18
Applicable State : Gujarat
Document Verification Last Date : 31-06-2018
Application Last Date : 16th April 2018 (Date Extended)
Website : http://mysy.guj.nic.in/
MYSY Scholarship
Online registrations for Mukyamantri Yuva Swavalamban Yojana (MYSY), a scholarship scheme for meritorious students in Gujarat have been started for the session 2017-18
Related / Similar Scholarship : MYSY
Eligibility Criteria
** Students have 90% Marks in 12th Class.
** Students passed 12th class from a recognized board.
** Students family income should not more than 4.5 lac Rupees.
** Student should be the Resident of Gujarat.

Required Documents
** Income Certificate from Competent Authority (Mamlatdar/TDO)
** Notarised Affidavit on Rs 20/- Non-Judicial Stamp
** Copy of saving bank account passbook (Student/ Parent)
** Copy of final admission letter & Tuition fee receipt
** Copy of hostel admission letter & fee receipt.
Scholarship Amount
Scholarship amount under MYSY Gujarat is different for different courses and course wise amount is mentioned below
** An amount of Rs. 1200 per month will the provided to the beneficiary for 10 months, if the district in which the student pursuing their studies neither have advanced education office nor government Hostel.
** Scholarship amount of Rs. 10,000 will be given to B.Sc, B.Ed and B.A courses students.
** For Pharmacy, Ayurveda, Engineering, Homeopathy, Physiotherapy and Nursing, the scholarship amount is Rs. 50,000.
** A total of Rs. 10 Lakh for 5 years would be allocated to dental courses and Medical Education Research Society.
Application Procedure
To apply for the scheme visit the official website and click the New Application link.
Mukyamantri Yuva Swavalamban Yojana online registrations can be done by the 10th, 12th and diploma/graduate students to avail the scholarship from the government.
Students fill the following details for Login
Step 1 : Select your Admission After – 10th(SSC) / 12th(HSC) / Diploma
Step 2 : Select your Board/ University [Gujarat Board]
Step 3 : Select the Stream – Science/General [Science]
Step 4 : Select Passing Year [2008]
Step 5 : Enter your Seat/ Enrollment Number [082123]
Step 6 : Enter your Password
Step 7 : Click Login button
New Registration
If you are a new user then click the Registration link in the Login page and fill the following form,
Step 1 : Select your Admission After – 10th(SSC)/ 12th(HSC)/ Diploma
Step 2 : Select your Board/ University [Gujarat Board]
Step 3 : Select the Stream – Science/General [Science]
Step 4 : Select Passing Year [2008]
Step 5 : Enter your Seat/ Enrollment Number [082123]
Step 6 : Enter your Birth Date (DD/MM/YYYY)
Step 7 : Enter your Mobile No [082901]
Step 8 : Click Get Password button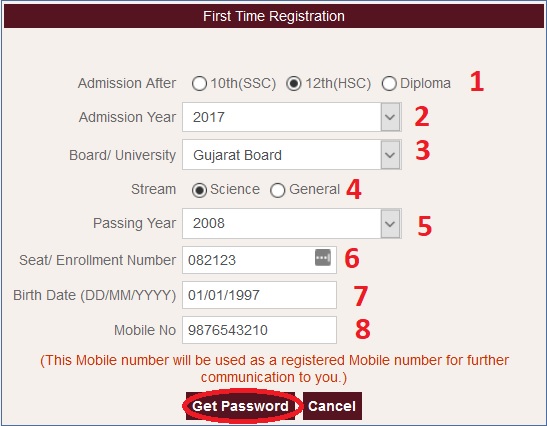 Check Status
You can check your Application status by entering the below details,
Step 1 : Select your Application – Fresh/ Renewal [Fresh]
Step 2 : Select your Standard – 10th(SSC)/ 12th(HSC)/ DtoD
Step 3 : Select the HSC Stream – Science/General
Step 4 : Select your Board [Gujarat Board]
Step 5 : Select the Passing Year [2008]
Step 6 : Enter your Seat No [082123]
Step 7 : Enter your Password
Step 8 : Click Get Student Details button

MYSY Helpline :
Eligible students can contact at given below MYSY helpline numbers between 10:30 AM to 6:00 PM. 079-26566000, 7043333181