Chinmaya Mission Trust CCMTEC Scholarships Fund/Vidya Nidhi : chinmayamission.com
You can ask questions or answer questions about this scholarship.
Please go to the bottom of this page.
Organisation : Central Chinmaya Mission Trust
Scholarship Name : CCMTEC Scholarships Fund/ Chinmaya Vidya Nidhi
Website : http://www.chinmayamission.com/what-we-do/schools-colleges/
Vidya Nidhi Brochure : https://www.scholarships.net.in/uploads/18528-Nidhi.pdf
CCMTEC Scholarships Fund
Food given in charity (anna-daanam) satisfies one man's hunger for a day, but education given in charity (vidyaa-daanam) empowers a man to make his life and livelihood, and support himself and his dependents. This service of humanity (maanava-sevaa) is the service of the Lord (maadhava-sevaa). To help the needy is our duty and privilege.
Related / Similar Scholarship : FIT India 2018 Uma Sathnur Scholarship
Please offer your maanava-sevaa in the form of vidyaa-daanam, and sponsor a child's education so that he can make his own life and livelihood.

Support Chinmaya Vidya Nidhi To offer monetary or in-kind (computers, lab equipment, stationery, etc.) donations for necessary school supplies and learning aids at Chinmaya schools and colleges please download the Vidya Nidhi Brochure
Scholarships
Offers scholarships and education materials to needy students and schools. The CCMT Education Cell Scholarships (CECS) are awarded to students who are academically brilliant, strong in values, and gifted in various fields, but have financial constraints.
Scholarships cover school fees, uniforms, books, stationery, and transport expenses. Their renewal is based on an annual review of student records. The scholarships are sponsored by generous donors and well-wishers of the cause of 'education for all.'
Awards
Recognises and encourages excellence in management, principals, staff, and students through awards. The awards encourage them to maintain and further their good work and inspire them to become role models.
The Chinmaya Vision Award is for the Vidyalayas that best implement CVP; The Chinmaya Gaurav Award, – meaning the pride of Chinmaya Institutions – is to recognise and honour students, teachers, and principals for successfully representing the school in academic, sports and cultural activities.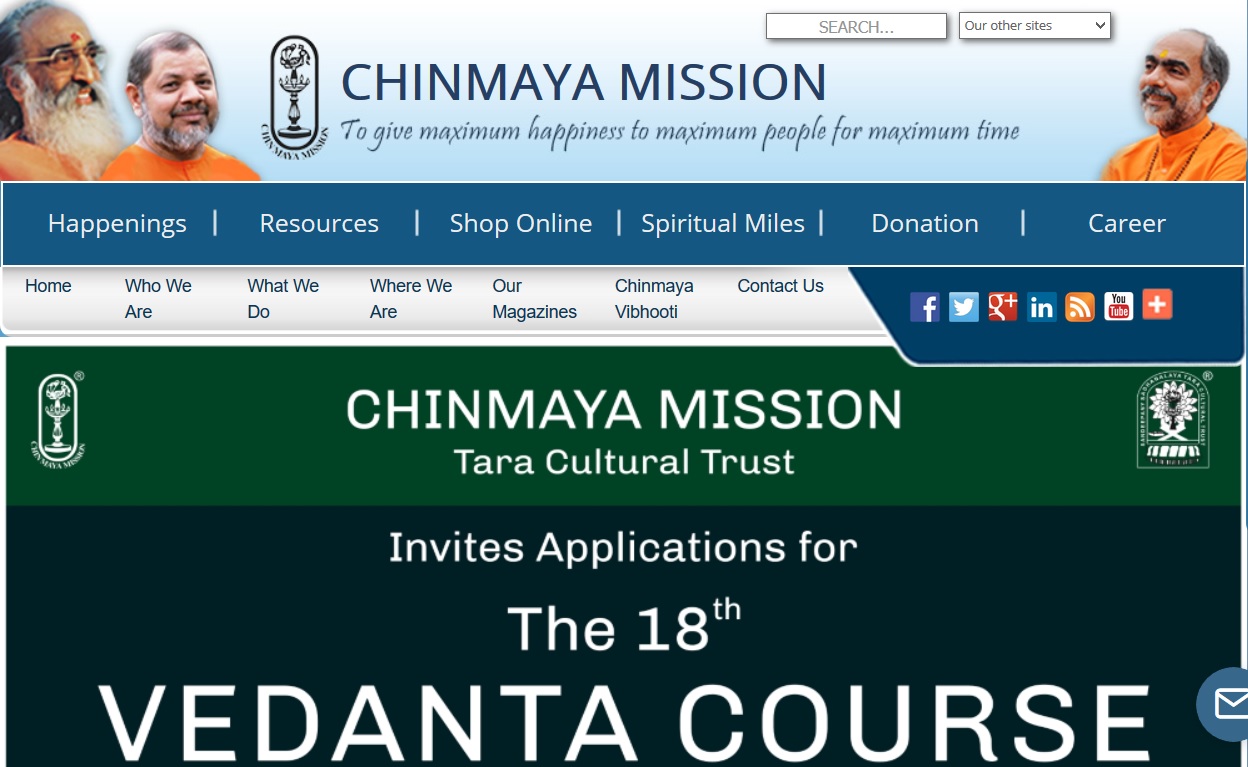 This award is given to state-level, national and international achievers. Started in 2001 and presented by Swami Tejomayananda, the awards are a means to recognize schools, individuals, and their families, and encourage more stars to shine in the national and international space.
Eligibility Criteria
Academics:  State and National ranks 1st to 10th. 
Sports: National 1st, 2nd or 3rd in competitions of CBSE or Government, or have represented the country internationally in a prestigious competition.
Cultural: 1st or 2nd in any prestigious National or International competition in the fields of art, performing arts, literature and the like.
Teachers/Principals : on having received an award from CBSE/HRD Ministry, Government of India.
A model student, Parvathy S., Chinmaya Gaurav Awardee in 2011, CV Thrissur, received the 'Gems of Seed Award' for her tireless enthusiasm, dedication, and hard work in planting hundreds of saplings on the grounds of an engineering college close to her Vidyalaya in Thrissur.
She also made and distributed hundreds of paper bags made from waste paper. She won the National Talent Search Examination Scholarship in 2010 and has won the Balashree Award for her creative scientific innovation.
Student Meets/Camps:
Forges a close Chinmaya family bond through organising camps and All Chinmaya Vidyalaya events. The Education Cell creates opportunities for at least some of the 80,000 students studying in the Vidyalayas to come together, not just virtually (on Social Media), but actually in camps. Such camps provide learning with fun and fun with learning.
Since 2005, the Education Cell organises annual summer adventure camps at Chinmaya Gardens, or in the Himalayas to foster integrated development of body, mind and spirit, equipping children to face challenges in life. Professionals (ex-army officers and mountaineers) guide students in air, water, and ground sports, and in team games and adventure courses.