IGNOU RF Research Fellowship : Indira Gandhi National Open University
Rate this post:
[ Votes=

0

, Average =

0

]
Organisation : Indira Gandhi National Open University
Scholarship Name : IGNOU RF Research Fellowship
Applicable For : Full Time Students of M.Phil/Ph.D programme in IGNOU
Application Last Date : 22.09.2017
Website : http://www.ignou.ac.in/ignou/aboutignou/icc/ru/scholarship-awards
Guidelines : https://www.scholarships.net.in/uploads/17981-Guidelines.pdf
Application Form : https://www.scholarships.net.in/uploads/17981-Form.pdf
IGNOU Scholarship
Applications are invited for the award of IGNOU-Research Fellowship (IGNOU-RF) from full time students of M.Phil/Ph.D programme in IGNOU.
Related / Similar Scholarship : Inlaks Shivdasani Research Travel Grants 2017
The fellowships shall be awarded under following categories :
1. Dr. B. R. Ambedkar Fellowship for Male Scholars
2. Savitri Bai Phule Fellowship for Female Scholars
Guidelines regarding eligibility criteria and other terms and conditions related to IGNOU-RF are enclosed for ready reference. Application forms in the prescribed format (see annexure-A) complete in all respects, may be submitted to the undersigned on or before 22.09.2017.
Objective
The objective of the IGNOU-RF scheme is to provide opportunities to research students who have no other financial support to undertake research leading to M.Phil/Ph.D degree in the disciplines offered by IGNOU.
Eligibility
The Scheme will be available only to those candidates who are already registered and pursuing M.Phil/Ph.D Programme in IGNOU on full time basis.
Nature of Assistance
The tenure of IGNOU-RF will be one year or till the submission of the dissertation, whichever is earlier for M. Phil students. In the case of Ph.D students, the tenure will be for a period of three years or till the submission of the thesis, whichever is earlier. Fellowship to Ph.D students will be extended annually on the recommendation of Doctoral Research Committee of the concerned discipline.
a) IGNOU-RF Honorarium:
Fellowship @ Rs. 5,000/- p.m. for M.Phil scholars and @Rs.8,000/- pm for Ph.D scholars will be awarded every month, during the period of the award of IGNOU-RF. No other grants or allowances e.g. house rent allowance etc., will be admissible to the candidate. Apart from the fellowship each scholar availing fellowship will be paid a contingency grant of Rs.8000/- per annum.
b) Medical Expenses:
No separate medical claim or allowance is admissible. However IGNOU-RF awardee may avail medical facilities at the IGNOU Health Centre.
c) Provision for Leave:
i) IGNOU-RF awardees are entitled to a maximum period of 30 days of leave in a calendar year in addition to public holidays. Women candidates are eligible for maternity leave as per UGC guidelines at full rates of fellowships once during the tenure of their award.
ii) In special cases IGNOU –RF awardees may be allowed leave without fellowship by the university up to one academic year during the entire tenure of the award for acceptance of teaching assignments on a temporary basis. The period of leave without fellowship will be counted towards the tenure of the award.
Procedure for Applying
A notification inviting applications for IGNOU-RF will be issued by the Research Unit. MPhil/ PhD Scholars registered with IGNOU may apply in the prescribed form enclosed as Annexure-A, through proper channel to:
Director, Research Unit
CAB Building, Maidan Garhi,
New Delhi-110068
Procedure for the award of IGNOU-RF:
a) Award of IGNOU-RF will be on the recommendation of a duly constituted Selection Committee which will screen/examine the applications.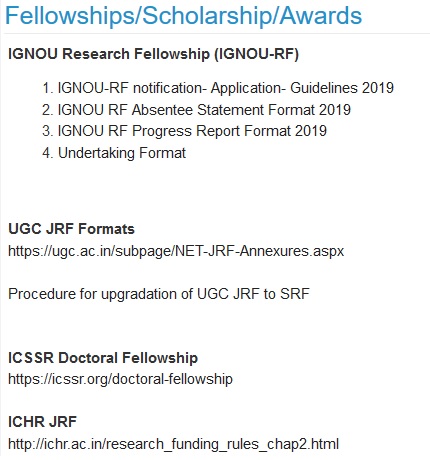 The Selection Committee will be comprising:
** The Director, Research Unit-Chairperson
** Research Programme Co-ordinator (Social Sciences domain)-Member
** Research Programme Co-ordinator (Science and Technology domain)-Member
** Officer of Research Unit (dealing with fellowship matters)-Convener.
b) The recommendations of the committee will be sent to the Vice-Chancellor for approval. The same will be ratified in the next meeting of the RCSC/RC.
c) IGNOU-RF will be made available to the selected candidates on annual basis beginning from admission cycle to Research Degree Programme.
d) Government of India policy on reservation will be strictly adhered to in the selection of candidates for awards.
e) Two fellowships, one each for male & female candidates are reserved for the children of Group B and C employees of IGNOU, pursuing Ph.D degree on full time basis. In case there are no candidates in this category, the fellowships will be made open and decision of award will be made accordingly by the Selection Committee.
Guidelines and Eligibility Criteria:
1. Student must be enrolled to IGNOU Research Degree Programme.
2. He/She should be a full-time research scholar (not having any remunerative employment)
3. He/She should not be availing fellowship from any agency/source during the same period/should have not availed fellowship from any agency/source for three or more years for his/her research degree work.
4. He/She should be below the age of 35 years.
5. The students recommended for IGNOU-RF will be required to submit an affidavit in the prescribed format to the effect that in case they accept any remunerative assignment/employment or get any other type of fellowship, they will immediately inform to the Research Unit for discontinuation of their IGNOU-RF. (Annexure – B)
6. The research scholars whose maximum duration of the programme is over and have sought/availed extension in registration period / research scholar who failed to complete the requisite Course work within six months of Registration to the Research Degree Programme will not be considered for IGNOU-RF.
7. Students receiving IGNOU-RF must submit their progress report every three months in the prescribed format (see annexure-C)
8. The IGNOU-RF awardees need to visit their discipline/supervisor and sign their attendance in an attendance register which will be maintained by the School.
For claim of fellowship, the awardee is required to submit the monthly attendance report in the prescribed format as enclosed at Annexure-D for the release of his/her fellowship on monthly basis.
If an awardee fails to submit his/ her attendance report consecutively for three months, the fellowship may not be considered for release and his/ her case may be subjected to review.
Procedure for monitoring the progress of IGNOU-RF:
a) The award of IGNOU-RF will be governed by the Fellowship Guidelines issued from time to time. The progress of the awardees will be monitored in the same manner as is done in the case of other Ph.D students.
b) The IGNOU-RF awardees may assist the Discipline / School etc. in its academic work, which includes assisting in the preparation of course materials, editing, assignment preparation, invigilation, corporate life of the University, etc.
c) IGNOU-RF of an awardee may be discontinued/cancelled if she/he does not complete the prescribed course work successfully within six months of admission and/or research proposal is not approved by the Doctoral Research Committee within one year of admission.
Cancellation of IGNOU-RF Award:
The Fellowship Award may be cancelled (without any prior notice) at any stage on the following grounds if
a) it is found that the details provided in the application are false.
b) awardee fails to maintain the standards / found indulging in unwanted activities/Misconduct.
c) Supervisor/Doctoral Research Committee does not find his/her progress satisfactory.
d) There is report of misconduct of the awardee.