Udit Goenka Internet Marketing Scholarship : uditgoenka.com
Organisation : Udit Goenka
Scholarship Name : Udit Goenka's Internet Marketing Scholarship
Application Deadline : 30st June 2018
Website : https://uditgoenka.com/scholarship
You can now ask your question on this scholarship.
Ask here
(OR) Go to the bottom of this page for comments.
Udit Goenka Internet Marketing Scholarship
A chance to win $1000 worth scholarship. Udit Goenka's official Internet Marketing Scholarship program is open. Submit your application today!
Related : Ally Digital Media Scholarship 2017 : www.scholarships.net.in/17100.html
The company is now offering a scholarship worth $1,000 to bright hard hardworking students with a passion for entrepreneurship, business, and success.
Criteria for Application
All applicants who want to be considered for the scholarship must meet the following simple conditions
1. Applicants must have at the time of application a GPA of at least 2.5.
2. The applicants must be students who are either enrolled in a college/university or a high school.


3. The scholarship will be offered to students all over the world.
4. Students who apply must demonstrate creativity and originality with their scholarship application essays.
Application Process
In order to apply for the Udit Goenka scholarship you are advised to follow the following simple steps
1. Write and submit a creative, relevant, and original essay on your topic of choice. The essay submitted must be at least 2,000 words.
2. Tell us why you need the scholarship and why you feel you are the best candidate.
3. The essay for scholarship application must be written in a professional manner. Grammar errors and spelling mistakes will not be tolerated.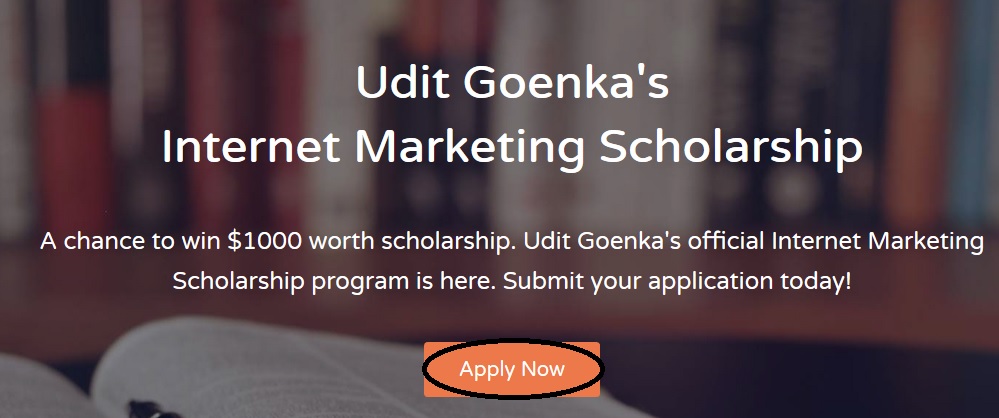 4. The following documents will be needed for the application: A course entry form from any college, acceptance letter from your university and your resume or CV.
5. All completed essays must be submitted at scholarships [AT] uditgoenka.com on or before the application deadline stipulated below.
Selection of the Winner
The winner of the scholarship will be selected on the basis of their creativity in writing the essay. The evaluation team will award the scholarship to the essay that has the uttermost creativity, originality, and relevance. Accuracy in writing and uniqueness in style will be added advantages.
Deadline
The deadline for the application of the Udit Goenka scholarship and submission of essays is 30st June 2018. The evaluation of applicants will begin right away and the winner will be unveiled on 1st August 2018.
Terms and Conditions
** Applicants must provide proof that they've met the criteria set for the scholarship.
** Valid personal information.
** Only one application per person.
** Udit Goenka will have the right to publish the personal details of the winner including their name and the university or college they are from.
We are looking forward to your applications, Good Luck!