Jalappa Education Foundation 2017 Scholarship Application : jalappaedufoundation.org
Organisation : Jalappa Education Foundation
Scholarship Name : Scholarship Application 2017
Application Deadline : 15.9.2017
Website : http://jalappaedufoundation.org/sch_form.php
You can now ask your question on this scholarship.
Ask here
(OR) Go to the bottom of this page for comments.
Jalappa Education Foundation Scholarship Application
The Scholarship application for the year 2017 are Open. Follow the below procedure to apply for the scholarship.
Update : Jalappa Education Foundation Scholarship Application Karnataka 2018 : www.scholarships.net.in/26408.html
Eligibility Criteria
** Scholarship will be awarded to students belonging to Arya Idiga community and hailing from Bangalore Urban, Bangalore Rural, Ramanagara, Kolar, Chikkaballapura, Tumkur, Mandya, Mysore, Chamarajnagara, Hassan, Chitradurga, Davanagere, Bellary and Shimoga Districts.
** Scholarship will be awarded to students whose studying PUC,Diploma,ITI, Any Degree, B.E., BVSC, B.PHARMA, BHMS, BDS, MBBS, Any Master Degree, MVSC, M.PHARMA AND MBBS.
** Applications will not be accepted if the cut off percentage is less than 60%.
** Students whose entire family who has BPL card, low-income farmer's, and agricultural labour's shall be eligible to apply.
** Only those who study in colleges on regular basis, affiliated to university of reputed are eligible to apply.
** Those who study through correspondence or in part time colleges are not eligible to apply.
** No scholarship will not be awarded to the students who have passed in 2nd or more attempts.
** Students who are applying for this scholarship should have bank account number in any of the core banking facility bank.
Online Application Form
** Go to the Official website and Click the Scholarship Application Link.
** Read the terms & Conditions carefully before apply for the scholarship.
** Fill the following details to complete your Online Application Form.
Step 1 : Enter Student Name
Step 2 : Enter Permanent Address
Step 3 : Enter Pin code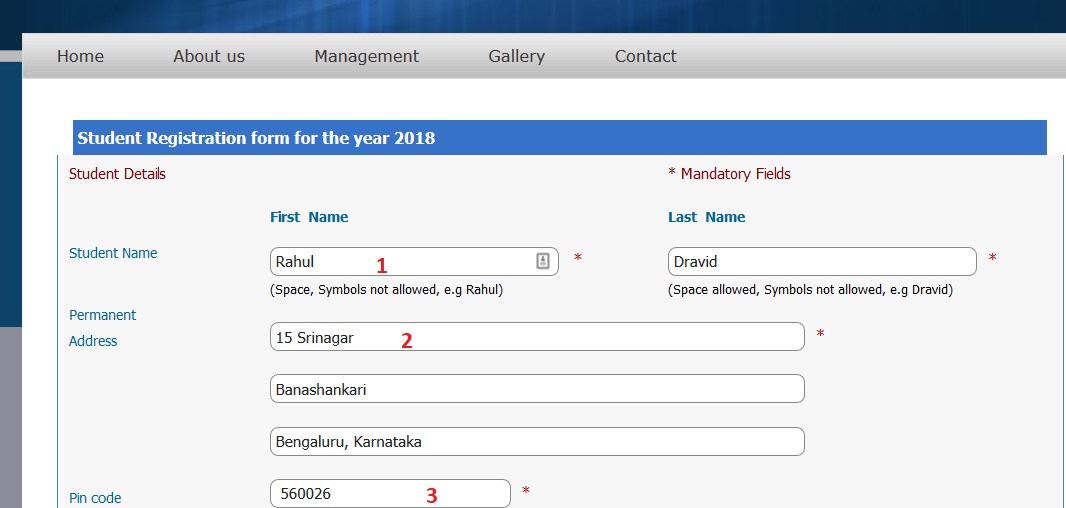 Step 4 : Select District
Step 5 : Select Taluk
Step 6 : Select Village
Step 7 : Enter Present Address
Step 8 : Select Caste
Step 9 : Enter Other caste
Step 10 : Select Sub Caste
Step 11 : Enter Date Of Birth
Step 12 : Select Gender – Male or Female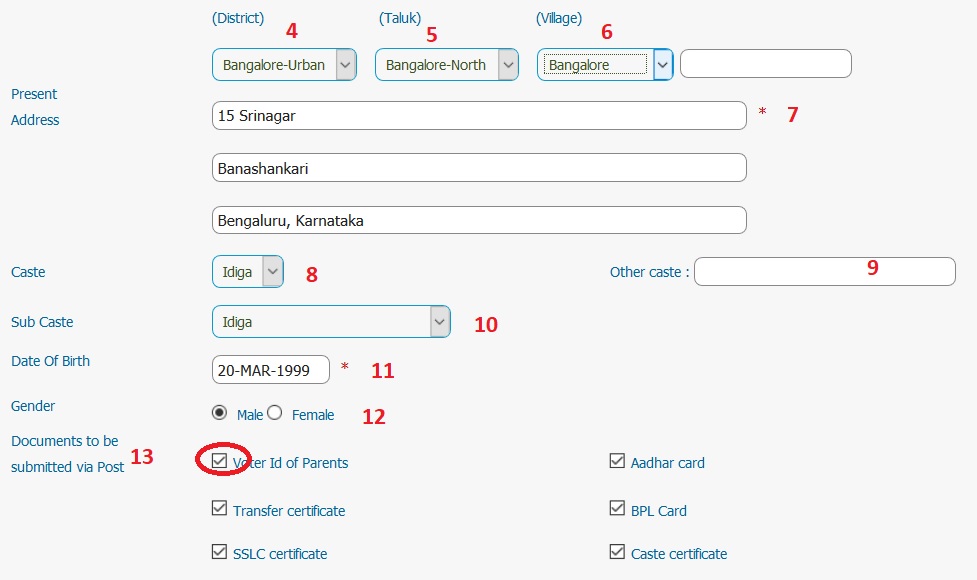 Step 13 : Select Documents to be submitted via Post
i. Voter Id of Parents
ii. Aadhar card
iii. Transfer certificate
iv. BPL Card
v. SSLC certificate
vi. Caste certificate
Step 14 : Enter S.S.L.C Passed Place.
Step 15 : Enter Mobile no
Step 16 : Enter E-Mail ID
Step 17 : Upload image
College Details :
Step 18 : Enter College name
Step 19 : Enter College Address
Step 20 : Select Course
Step 21 : Select Year
Step 22 : Enter Other Particulars
Step 23 : Enter Remarks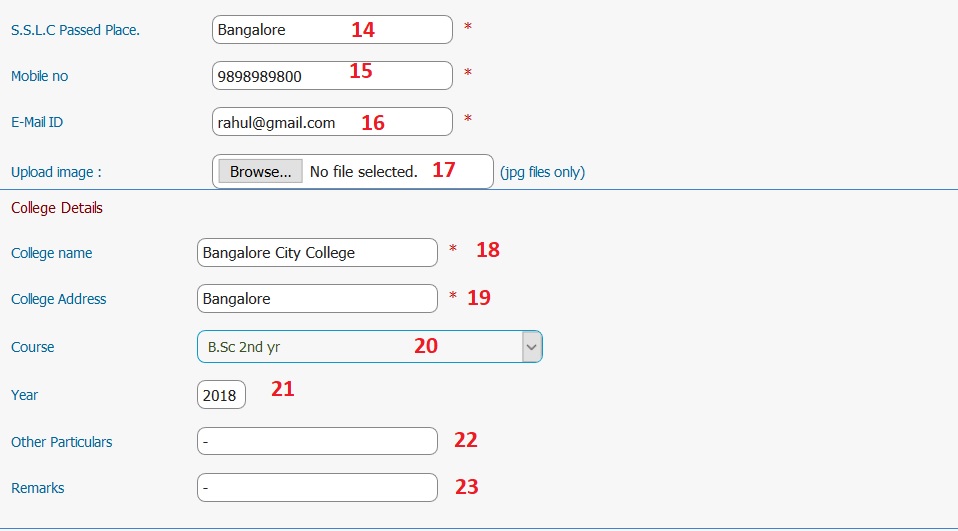 Previous Records Marks with Proof :
Step 24 : Select Course
Step 25 : Enter Institution name
Step 26 : Enter Years
Step 27 : Enter Marks
Step 28 : Enter Percentage
Note : Mark cards of the filled should be submitted
Father's Details :
Step 29 : Enter Name
Step 30 : Enter Occupation
Step 31 : Enter Annual Income
Step 32 : Enter Mobile no
Mother's Details :
Step 33 : Enter Name
Step 34 : Enter Occupation
Step 35 : Enter Annual Income
Step 36 : Enter Mobile no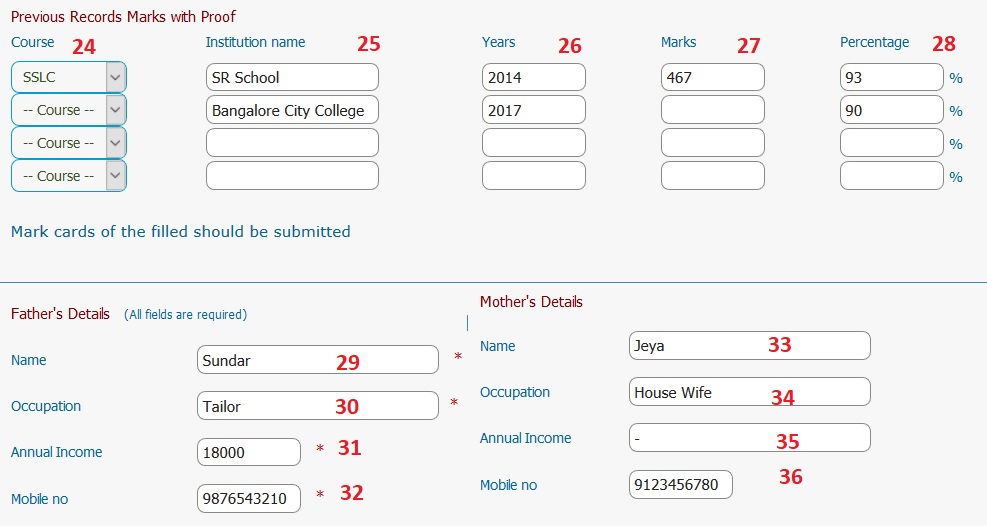 Bank Details :
Step 37 : Enter Name of the Account Holder
Step 38 : Enter Bank Name
Step 39 : Enter Branch Name
Step 40 : Enter Account No
Step 41 : Enter Type of Account
Step 42 : Enter IFSC Code
Step 43 : Click Submit button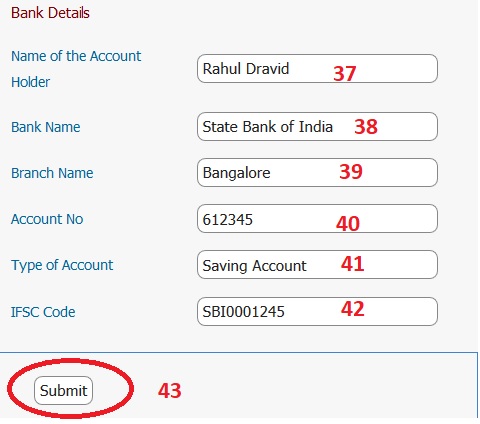 After pressing SUBMIT button applicant will get filled application in PDF format along with the application number.
Take a filled print out of the application affix passport size photo on the application and get signature from your college principal/Head of the institution.
Documents To Be Attached
The applicant should send the Printed application along with following documents to the address mentioned below by courier or by post.
** Passport size photo.(affix to the application)
** SSLC/10th, PUC/12th marks card etc.
** Previous 3years / previous semester's marks card if studying UG or PG.
** Address proof and Identity proof pertaining to the applicant.(Adhar card)
** Copy of Identity card issued by the institution.
** BPL Card
** Transfer certificate issued by the institution.
** Fee paid receipt.
** Copy of Student Bank Account passbook.
** Marks statements of the previous course pursued should be duly attested and signed by the Head of the Institution and contain his/her seal.
Note :
** The last date for applying online application is 15-9-2017. Applications received after 15-09-2017 will not be considered.
** If you do not attach any of the above document your application will be rejected.
** Only online applications with application number and with required documents will be accepted.
** Any issues and queries related to the online application Send e-mail to jalappaedufoundation [AT] yahoo.com
Address for sending filled in applications :
To
The Secretary
Smt.Vijayalakshmi R L Jalappa
Education foundation (Regd.)
No.126, Silver Star Hotel,
6th Cross, Gandhinagar,
Bangalore-560009.