National Scholarship Portal Karnataka 2017-18 Pre-Matric IX & X Centrally Sponsored Scheme For Scheduled Tribe ST Students : scholarships.gov.in
Organisation : Government of Karnataka (National Scholarship Portal)
Scholarship Name : Centrally Sponsored Scheme of Pre-Matric IX & X Scholarship For Scheduled Tribe Students Karnataka 2017-18
Applicable For : IX & X ST Students From Karnataka State
Applicable State : Karnataka
Application Deadline : 31st October 2017
Website : http://scholarships.gov.in/homePage
You can now ask your question on this scholarship.
Ask here
(OR) Go to the bottom of this page for comments.
Pre-Matric IX & X Scholarship
The Ministry of Tribal Affairs has introduced a Centrally Sponsored Scheme of Pre-Matric Scholarship for ST students studying in classes IX&X
Related : National Scholarship Portal : www.scholarships.net.in/national-scholarships-portal
The Scheme aims at improving participation of ST children in classes IX and X of the Pre Matric stage, so that they perform better and have a better chance of progressing to the Post Matric stage of education.
The rates of Scholarship are Rs.150/- per month for day scholars and Rs.350/- per month for hostellers, for a period of 10 months in a year and books and ad hoc grant of Rs.750/- per year for day scholars and Rs.1000/- per year for hostellers.
Additional allowance for ST students with disabilities is also admissible to those students who are studying in private unaided recognized schools. The scholarship is, however, available to only those ST students who are not getting any other Centrally funded Pre-Matric Scholarship and whose parents'/guardian's annual income does not exceed Rs.2.00 lakh.
The Scheme is implemented through the State Governments and UT Administrations who receive 100% Central Assistance over and above the committed liability of the State Governments/UT Administrations.
Registration/ Application Procedure :
You can do so this in 3 simple steps:
Step 1:
Register yourself on National Scholarship Portal (http://scholarships.gov.in/) by clicking on 'Register Here' link as shown in screen below.

Once registered, system will generate a unique Application id in the format KA201718XXXXXXXXX. This Application id and password will also be sent to your registered mobile number as text message.
Step 2:
Use the Application id and password to login on NSP 2.0 portal. Upon successful login, change the password and save it for future use.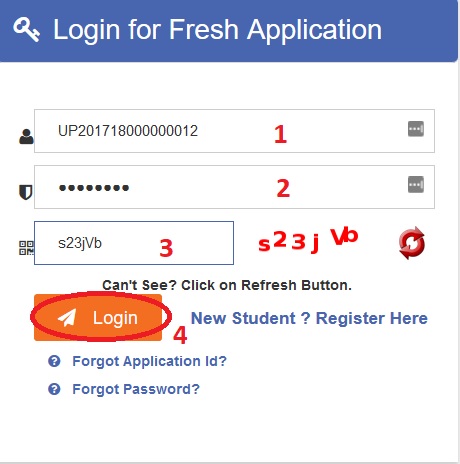 You will then be directed to a customized dashboard where you will be able to apply for Scholarship Schemes of you state.
Step 3:
In the dashboard, apply for Scholarship Scheme by clicking on 'Application form' link or 'Apply' button as shown in the screen below.
Important Note :
1. The login id and password to log into NSP portal will be your Application Id and DOB respectively. You are advised to mandatorily change your password at the time of first login for security purposes.
2. Students are advised to submit only "One Application Form". In case if students submits more than one application form then all the applications submitted by students will be considered as "Duplicate" and will be "Rejected".
3. Students are advised to provide "Annual Family Income" as per the Income Certificate issued by competent authority in their scholarship application.