muthootfinance.com : Muthoot M George Foundation Excellence Scholarship Karnataka
Organization : Muthoot M. George Foundation
Scholarship Name : Muthoot M George Excellence Scholarship
Applicable For : 10th Standard Toppers
Applicable State : Karnataka
Website : http://www.muthootgroup.com/index.php?/news/display/111
Muthoot M George Excellence Scholarship
Muthoot M. George Foundation launched its Excellence scholarships to the topers of 10th Standard in Government Schools coming under the Educational Districts of Karnataka region today.
Related / Similar Scholarship : Muthoot M George Higher Education Scholarship 2018-19
The launch event was inaugurated by Shri K J George, Home Minister of Karnataka along with Mr George Alexander Muthoot, Managing Director, Muthoot Finance Ltd. The other officials present during this occasion include Mr George Muthoot Alexander, Vice President – Operations South, Muthoot Finance Ltd. Mr Babu John Malayil, AGM Corporate Communications Muthoot Finance Ltd, Mr B Karunakara Shetty, Regional Manager Muthoot Finance Ltd, North Bangalore, and Mr Mathunny, Sr Regional Manager Muthoot Finance Ltd, South Bangalore along with parents and teachers.

Scholarship Amount
This scholarship will benefit students of 210 Government schools and consists of a certificate and cash prize of Rs.2500/ each. This activity is the extension of program already implemented in Kerala government schools.
Speaking on this occasion Hon K J Gorge said "I am happy to be a part of this event today, I am glad an institution like Muthoot Group which has undertaken such an initiative, it truly, depicts their noble objective of doing good for the society, this scholarship program would encourage and motivate our Government school children to excel in their studies in a big way"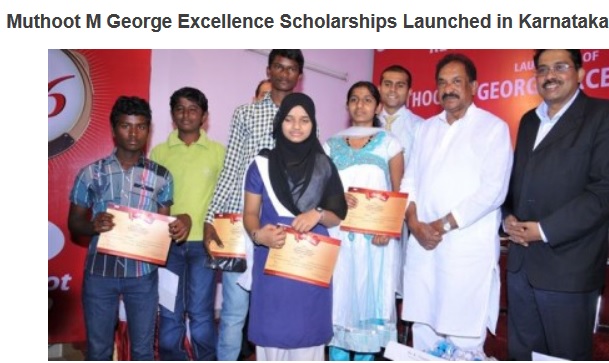 About Muthoot Group
The Muthoot Group's business origins can be traced back to 1887 when it started as a small trading business enterprise in Kozhencherry, a remote village in the state of Kerala. Since its formation, the company, under the leadership of its key management – Shri M.G. George Muthoot (Chairman), Shri George Alexander Muthoot (Managing Director), Shri George Thomas Muthoot (Jt. Managing Director) and George Jacob Muthoot (Jt. Managing Director) has broadened its scale and widened its geographic scope of retail operations.
Today, Muthoot Group is a multi-faceted business conglomerate that has been serving the nation for over 126 years. The formidable business empire comprises of 16 divisions including Financial Services, Plantations & Estates, Education, Leisure & Hospitality, Healthcare, Housing & Infrastructure, Infotech, Wealth Management, Money Transfer, Forex, Media, Power Generation, Precious Metals, Securities, Vehicle & Asset Finance, Travel Services, Muthoot Global and Muthoot Money.
Headquartered in Kochi and having its Corporate Office in New Delhi, the company has a dominant presence in over 21 states & 4 Union Territories of India. It also has its presence in USA, UK and UAE too.
About Muthoot M George Foundation
Muthoot M George Foundation is, named after Late M George Muthoot, the Founder chairman, of the Muthoot Group, and started functioning in the year 1993. The Foundation's activities include support to the poor for their medical treatment, marriage of girls & education of children. Also it has projects to encourage Medical Research, and environment friendly life.