scholarships.wbsed.gov.in : NTSE 2018 State Level National Talent Search Examination West Bengal
Rate this post:
[ Votes=

0

, Average =

0

]
Organisation : West Bengal Department of School Education
Scholarship Name : NTSE 2018 State Level National Talent Search Examination
Applicable For : Students Studying in class X
Applicable State : West Bengal
Application Last Date : 31 .08.2017
Date of Examination: 05 .11.2017
Website : http://www.wbsed.gov.in/welcome.html
Apply Online : https://scholarships.wbsed.gov.in/
Notification : https://www.scholarships.net.in/uploads/16277-website.pdf
NTSE Talent Search Exam :
Please go through the Instructions carefully before filling up the form. For any clarification applicants may mail to helpscholarships@gmail.com
Related / Similar Post : WBSED Download Admit Card 2017-18

Eligibility:
1. Students of class X of any affiliated and recognized school under W.B.B.S.E./W.B.B.M.E./I.C.S.E./C.B.S.E in West Bengal securing 50% and above marks (40% and above marks for S.C/S.T/Physically Disabled Candidates) in the final examination of class IX are eligible to appear at State level NTSE, 2018.
2. Students who have registered under Open Distance Learning (ODL) under NIOS / West Bengal Council of Rabindra Open Schooling and secured 50% and above marks in the pre-10th level examination (40% and above marks for SC/ST/Physically Disabled Candidates) will also be eligible to appear at the examination provided the student is below the age of 18 years (as on 1st July, 2017), the student is not employed and he/she will appear at class 10th level examination for the first time.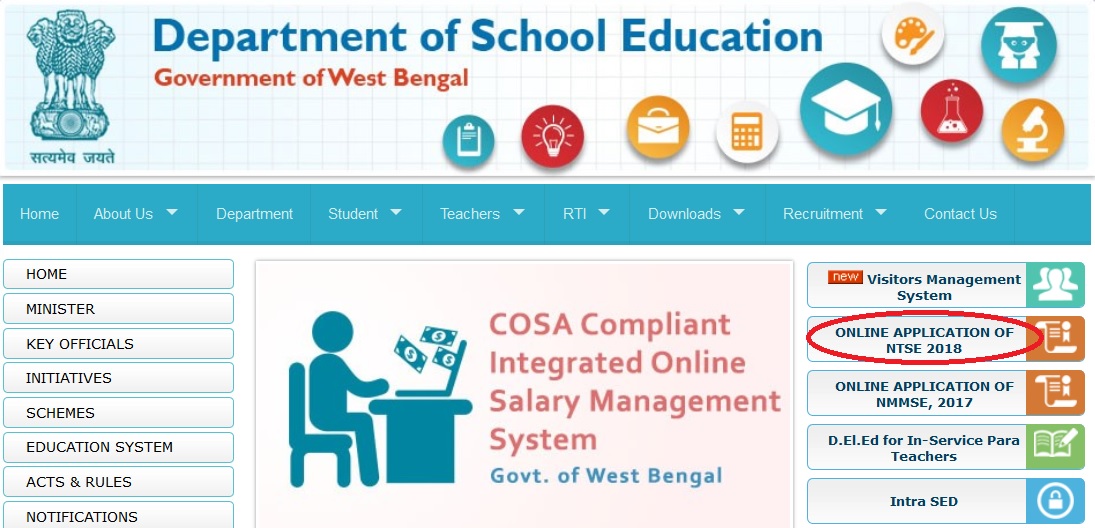 3. There are two Educational Districts in addition to 23 Revenue Districts in West Bengal. Those are- BARRACKPORE Educational District (comprising of Sub-Division:- BARRAKPORE & BIDHANNAGAR) and SILIGURI Educational District (comprising of SILIGURI Sub-Division only)
4. Further newly created districts are Purba Burdwan (Sub-Division:- Katwa, Kalna, Burdwan Sadar North, Burdwan Sadar South), Paschim Burdwan (comprising of Asansol and Durgapur sub-divisions), Kalimpong (comprising of Kalimpong sub-division), Jhargram (comprising of Jhargram sub-division). There are two newly created subdivisions i.e Jhalda in Purulia district and Mirik in Darjeeling district.
i. If the candidate is studying in any school under the Jurisdiction of BARRACKPORE or BIDHANNAGAR Administrative Sub-division in that event, he/she must choose BARRACKPORE as district instead of NORTH 24 PARGANAS or KOLKATA.
ii. If the candidate is studying in any school under SILIGURI Administrative Sub-division in that event, he/she must choose SILIGURI as district instead of DARJEELING.
5. Applicant should opt for the district in which he/she actually resides within the administrative jurisdiction of the respective district.
Filling up Application Form Online:
Step I:
Click on the 'New User Register Here' link and fill up the personal details along with one Mobile number (a Mobile number and email Id used once, could not be used second time for registration) and register. A registration number will be generated which should be noted down along with the password given to login to the system in future.

Step II:
1. Login to your account using registration number and password.
2. Edit the form and fill in other details and upload scanned copy of your passport size photograph. The image file for photograph should be in .jpeg/jpg format and maximum size limit is 20KB. Save the form. The form may be edited in till it is locked by you.
3. Once the form is filled in with correct particulars and complete in all respect, the same should be locked. A printout of the filled-in application along with the format for Certificate from the Head of the School/Institution (HOI) should be taken out.
Step III:
1. Applicant has to take out the printed application form and Certificate to the Head of the School/Institution (HOI) where he/she is studying and get the Certificate signed with official seal and upload the signed Certificate to his/her account along with scanned copies of:
(i) Caste Certificate issued by the Competent Authority, if applicable
(ii) Disability Certificate (40% and above disability must be certified by the Competent Medical Board of the State Govt./Central Govt.), if applicable -duly signed by the concerned School Authority latest by 31st August,2017. The maximum size of scanned document(s) should be 100KB.
2.Caste Certificate and Disability Certificate(s) are required only for the SC/ST and Physically Disabled candidates respectively. The application submission is complete only when the Certificate from HOI and other required documents are uploaded, else the candidature of the applicant will be cancelled.
3. The candidature of the applicant may be cancelled at any stage of the examination process without any reference if any false/incorrect information is found in the filled-in application form of the said candidate. Further application form with incomplete/irrelevant information/ photograph/ scanned certificates is liable to be summarily rejected.
4. Notification for downloading Online Admit Card will be notified on Notice Section. Please visit scholarship portal for the same and any further information relating the examination.
Type of School /Institution:
Government:
A Government school is that which is run by the State Government or Central Government or Public Sector Undertaking or an Autonomous Organization completely financed by the Government.
Local Body:
A Local Body school is that which is run by Panchayati Raj and Local Body institution such as Zilla Parishad, Municipal Corporation, Municipal Committee and Notified Area Authority Committee and Cantonment Board.
Private Aided:
A Private Aided school is that which is run by an individual or a private organization and receives grant from Government or Local Body.
Private Unaided:
A Private Unaided School is that which is managed by an individual or a private organization and does not receive any grant either from Government or Local Body.