APSMFC Adarana Financial Assistance To Minority Artisans Andhra Pradesh
Rate this post:
[ Votes=

0

, Average =

0

]
Organisation : APSMFC Andhra Pradesh State Minorities Finance Corporation Ltd
Scheme Name : Adarana Financial Assistance To Minority Artisans
Applicable For : Minorities
Applicable State : Andhra Pradesh
Scheme Details : https://www.scholarships.net.in/uploads/14026-adarana.pdf
Apply Online : http://apobmms.cgg.gov.in/
APSMFC Adarana Financial Assistance
The project is christened as "ADARANA" and aims at empowering Minority Artisans by providing improved hand tools, power tools and equipment.
Related / Similar Scholarship :
APSMFC Financial Assistance To Minorities Under Tatkal Scheme
Nature of Assistance
"ADARANA" essentially focus on providing loan with bank linkage for procurement of hand tools, hand held powered tools and small equipment.
Eligibility
1. Beneficiary should belongs to Minority Community in the age group between 21-55 years.
2. The beneficiary should be a working Minority Artisan.
3. The Annual income of the parent / Applicant should not exceed Rs.2,00, 000/- in Urban areas and Rs. 1,50,000/- in Rural Areas.
4. A minimum of 33 1/3% women coverage be ensured of the total target for the District and Mandal level.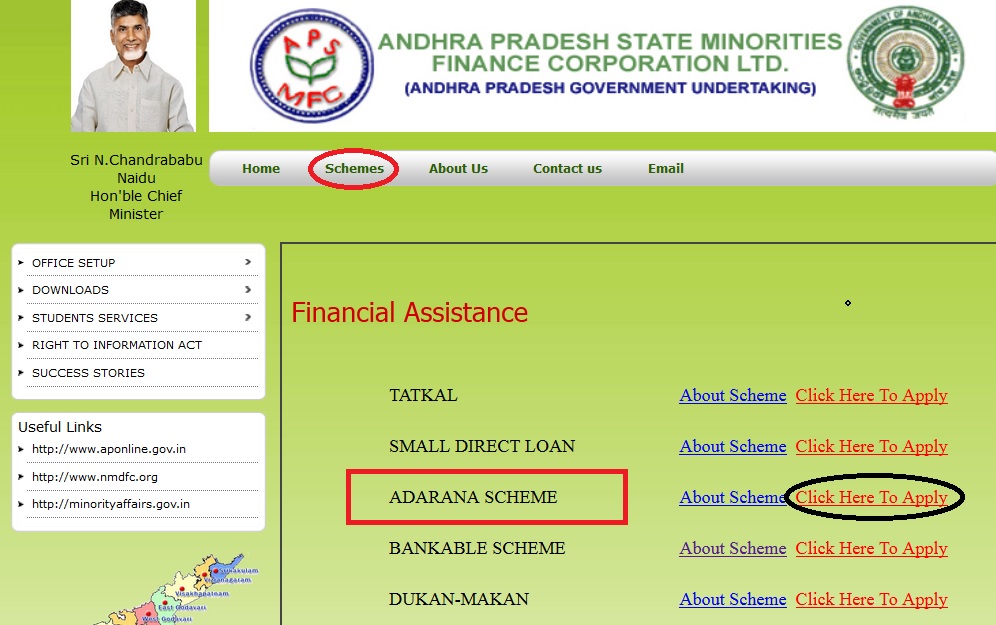 The District monitoring Committee shall perform the following functions:
a) Preparation of the District Action Plan of the Scheme.
b) The District Collector shall convene special DLBC's in order to expedite the process of the sanction of Adrana Scheme.
c) Ensure the Constitution of selection Committees at the Mandal level & ensure that the selection of beneficiaries is done within the time frame.
d) District Level Committee shall examine any complaints in the process of selection of beneficiary and grounding of scheme.
e) Review the progress of the scheme at frequent intervals.
f) Any other intervention that may be needed for the successful implementation of the scheme.
How To Apply?
a) Minority applicants desired to avail financial assistance shall apply through the online beneficiary monitoring system (OBMMS) only.
b) After registration of application through (OBMMS) the online registered application Hard copy shall be obtained.

c) The Hard copy of application shall be submitted to the MPDO/Municipal Commissioner (Municipality) / Zonal Commissioner (in case of Municipal Corporation) along with the following Enclosures.
Enclosures :
I. Income Certificate issued by Tahasildar.
II. Photostat copy of Ration Card.
III. Photostat copy of Aadhar Card.
IV. One Pass port size photo.
Other Issues
a) Selection of beneficiaries shall be completed during joint Identification camps/exclusive identification camps for Minorities.
b) All applications shall be registered through the online beneficiary monitoring system (OBMMS) only.
c) All applicants shall submit the hard copy of application along with necessary encloses to the respective MPDO/Municipal Commissioner (Municipality) /Zonal Commissioner (in case of Municipal Corporation)
d) Subsidy for the beneficiaries shall be administered through the online system.
The above guidelines for implementing Adarana Scheme shall be adhered without any deviation within the budget provision allocated to the District.