sw.kar.nic.in SC/ST Post Metric Scholarship : Karnataka Social Welfare Department
Organization : Karnataka Social Welfare Department
Scholarship Name : SC/ST Post Metric Scholarship
State : Karnataka
Website : http://sw.kar.nic.in/
SW Karnataka SC/ST Post Metric Scholarship
Follow the below procedures to apply for SC/CT Post Matric Scholarship, If you are already registered students click on the Login button and apply the Scholarship. Students can register by using SSLC Registration No.
Related / Similar Post :
SW karnataka Pre-Metric Scholarship Management System
Registration
If you are new user click on the Student Registration to apply for the Scholarship. Registrations of Pre-matric & Post Matric Scholarships of ST students for Karnataka State is extended upto 31st January 2016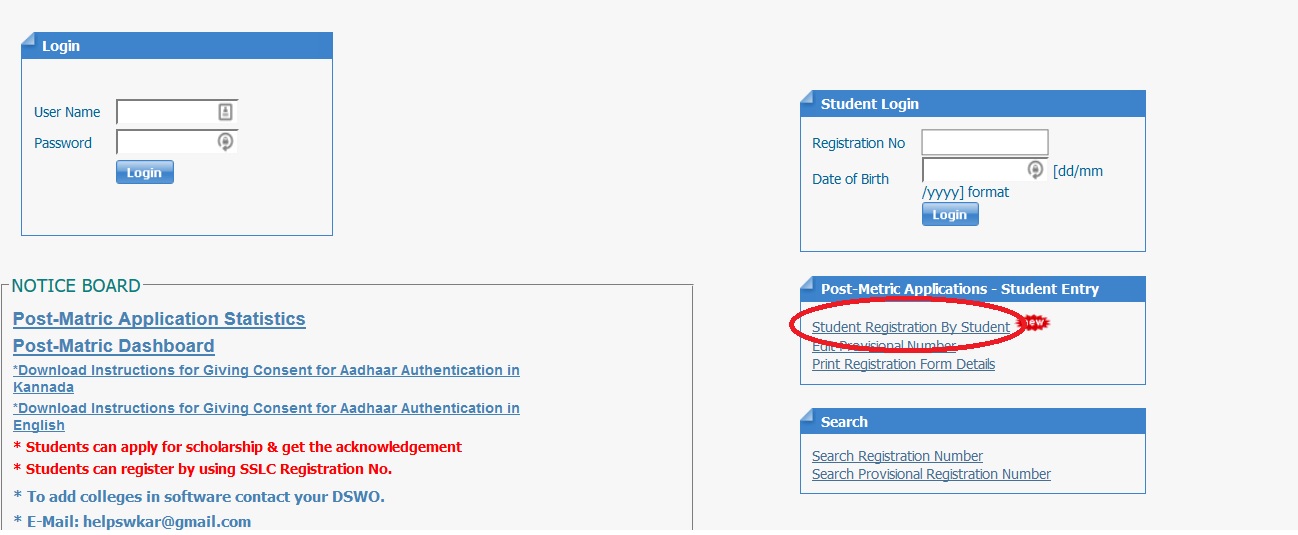 Obtaining Provisional Registration Number
** Enter all the details and click on "Submit" button.
** The system will display the provisional registration number.
** Note down the registration number before going to college for confirmation.
Note : Pre-matric and Post-matric scholarship disbursement shall be done through state scholarship portal.
Print Registration Form
After completing your Application you can print your Registration form.



Step 1 : Enter Provisional Registration No
Step 2 : Click on the Submit Reg No
Student Login
If you are a Registered user then enter the below details for Login,
Step 1 : Enter Registration No
Step 2 : Enter Date of Birth
Step 3 : Click on the Login button


Home Page :
All the options available for student are listed. Using this the student can view his application status , Apply for post – metric scholarship or change his password.
Post-Metric Scholarship application
Fill all the details and click on "Save" the application will be forwarded to concerned TSWO
Application Status :
Latest application status will be displayed
Change Password :
Student can change his password using this screen.
Attention :
Now Students can take print out of Scholarship Request & Renewal acknowledgement in Login.
To add colleges in software contact your DSWO.
NOTICE BOARD :
** Students can apply for scholarship & get the acknowledgement
** Transfer of Taluk for the Students is given in TSWO Login :Applications->Transfer Taluk
** Students can register by using SSLC Registration No.
** To add colleges in software contact your DSWO.
Scholarship Help Line
Number : 180042521111
E-Mail: helpswkar AT gmail.com
To add bank branch mail branch details to: swaddbank AT gmail.com
To Courses mail Course details to : swaddcourse AT gmail.com
About us :
The Constitution of India provides certain special Constitutional safeguards for the welfare of Scheduled Castes and Scheduled Tribes and other weaker sections of the population, so that they could take their rightful place in community.
As citizens of the Republic of India, they are fully entitled to certain rights and privileges, which were denied to them in the past on the ground of Caste system and the practice of Untouchability.
Contact us :
Commissionerate of Social Welfare Department
5th Floor, MS Building
Dr. Ambedakar Veedhi.
Bangalore 560001
24/7 HelplineNo:9008400078/08022634300
Mobile HelplineNo:9480843005(10Am-5:30Pm)
HelplineNo:080-22340956(10Am-5:30Pm)
email: helpswkar [AT] gmail.com