bcebcwelfare.bih.nic.in Post Matric Scholarship Application Status 2013-14 & 2014-15 : Bihar BC Backward & EBC Extremely Backward Class Welfare Department
Organization : Backward & Extremely Backward Class Welfare Department
Scholarship Name : Post Matric Scholarship Application Status 2013-14 & 2014-15
State : Bihar
Website : http://bcebcwelfare.bih.nic.in/
Post Matric Scholarship:
Application Status 2013-14 & 2014-15
This Scheme is implemented under the guidelines of Social Justice and Empowerment Ministry of Govt. of India.
Related / Similar Scholarship : BC/EBC Welfare Bihar PMS 2015-16

All Backward Class and Extremely Backward Class students of Bihar pursuing recognized post matriculation courses in India in recognized institutions can get the scholarship provided their parents/ guardian's income is not more than Rs. 1.00 lakhs ( one lakhs ) per annum.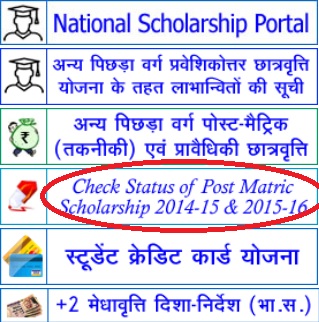 Check Status
Enter your Application Number & Click submit Button to know the status
Contact:
For any query please call us on 0612-2923016 , 0612-2923017
(10AM to 6PM, Sunday Closed)
Or Mail Us: itcellbcebc [AT] gmail.com
About us :
The amendment in the Bihar Executive Guidelines, 1979, by notification of the Cabinet Secretariat and Coordination Department- No. M / 01 / R-02 / 2007-602 dated 20-03-2007, for the implementation and monitoring of the following subjects, the Backward Classes And the Backward Class Welfare Department has been made nodal department –

** Providing Citizen to students of Backward Classes
** Grants for books and accessories to highly backward class students
** To provide loans to the members of the Backward Classes for their development.
** Opening and managing hostels for students of Backward Classes.
** Co-operative societies formed for the backward classes.
** Assistant grant to educational and cultural institutions working for the benefit of the backward classes.
** Providing family members to backward classes.
** Grants for Books and Accessories to Backward Classes Students
** Making loans available to the backward class members for their development.
** Opening and managing hostels for backward class students.
** Formation of co-operative societies for backward classes.
** Subsidiary grant to educational and cultural institutions working for the benefit of backward classes
** Bihar State Backward Class Finance and Development Corporation
** Special Home-Building Plans for Backward Classes and Backward Classes