Know Your State Nodal Officer : National Scholarships Portal
Organization : National Scholarships Portal
Facility : Know Your State Nodal Officer
Country: India
Website : http://scholarships.gov.in/index
You can ask questions or answer questions about this scholarship.
Please go to the bottom of this page.
National Scholarships Know Your Nodal Officer
To check your Nodal Officer list visit the National Scholarships Portal and follow the below steps
Related / Similar Scholarship :
Guidelines For Registration On NSP
The name and contact details of the Nodal Officer/State Department of all States/UTs are available in "Services->Scheme wise State Nodal Officer" option.

You can select the following category to search your Nodal Officer Details
** Ministry of Minority Affairs
** D/o School Education & Literacy (NSIGSE)
** D/o School Education & Literacy (NMMS)
** Ministry of Labour & Employment
** Department of Higher Education (CSSS)
** Department of Empowerment of Persons with Disabilities
** Nodal Officer of CAPFs/Assam Rifles
** Bihar State Nodal Officer List
The officer list will be available in PDF format. you can Download it and check the details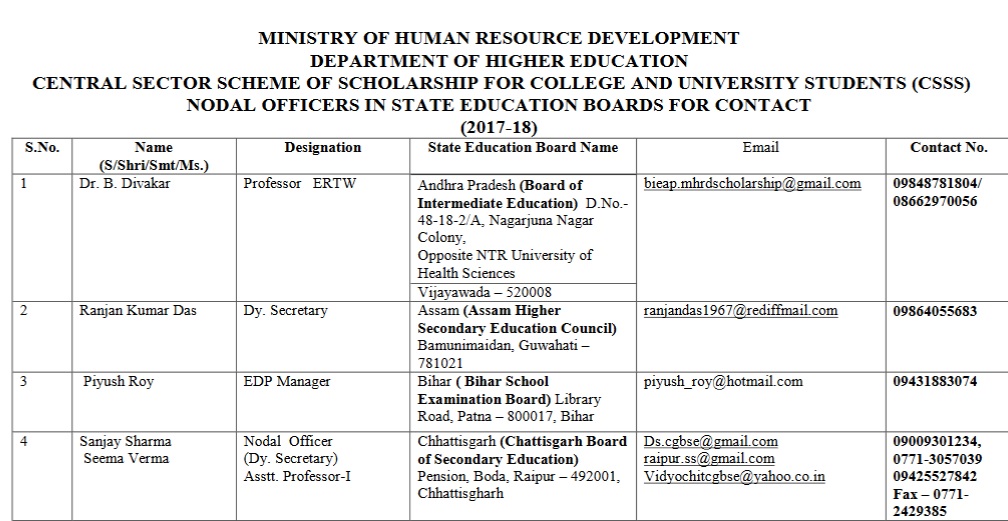 Tamil Nadu State Nodal Officers
State : Tamil Nadu
SNo | Ministry Name | Scheme Name | User Name :
1 Department of Empowerment of Persons with Disabilities SCHOLARSHIP FOR TOP CLASS EDUCATION FOR STUDENTS WITH DISABILITIES G.Ravindranath Singh
2 Department of Empowerment of Persons with Disabilities SCHOLARSHIP FOR TOP CLASS EDUCATION FOR STUDENTS WITH DISABILITIES G.Ravindranath Singh
3 Department of Empowerment of Persons with Disabilities POST MATRIC SCHOLARSHIP FOR STUDENTS WITH DISABILITIES G.Ravindranath Singh
4 Department of Empowerment of Persons with Disabilities POST MATRIC SCHOLARSHIP FOR STUDENTS WITH DISABILITIES G.Ravindranath Singh
5 Department of Empowerment of Persons with Disabilities PRE MATRIC SCHOLARSHIP FOR STUDENTS WITH DISABILITIES
6 Department of Empowerment of Persons with Disabilities PRE MATRIC SCHOLARSHIP FOR STUDENTS WITH DISABILITIES
7 Department of Higher Education CENTRAL SECTOR SCHEME OF SCHOLARSHIPS FOR COLLEGE AND UNIVERSITY STUDENTS
8 Department of Higher Education CENTRAL SECTOR SCHEME OF SCHOLARSHIPS FOR COLLEGE AND UNIVERSITY STUDENTS
9 Ministry of Tribal Affairs SCHEME OF PMS, BOOK BANKS AND UPGRADATION OF MERIT OF ST STUDENTS CS MR T.kasi
10 Ministry of Tribal Affairs SCHEME OF PMS, BOOK BANKS AND UPGRADATION OF MERIT OF ST STUDENTS CS MR T.kasi
11 Ministry of Tribal Affairs PREMATRIC SCHEME FOR ST STUDENTS MR T.kasi
12 Ministry of Tribal Affairs PREMATRIC SCHEME FOR ST STUDENTS MR T.kasi
13 Ministry of Minority Affairs POST MATRIC SCHOLARSHIP SCHEMES MINORITIES CS
14 Ministry of Minority Affairs POST MATRIC SCHOLARSHIP SCHEMES MINORITIES CS
15 Ministry of Minority Affairs MERIT-CUM-MEANS SCHOLARSHIP FOR PROFESSIONAL AND TECHNICAL COURSES CS
16 Ministry of Minority Affairs MERIT-CUM-MEANS SCHOLARSHIP FOR PROFESSIONAL AND TECHNICAL COURSES CS
17 Ministry of Minority Affairs PRE MATRIC SCHOLARSHIPS FOR MINORITY
18 Ministry of Minority Affairs PRE MATRIC SCHOLARSHIPS FOR MINORITY
19 Department of School Education & Literacy NATIONAL MEANS CUM MERIT SCHOLARSHIP
20 Department of School Education & Literacy NATIONAL MEANS CUM MERIT SCHOLARSHIP
Karnataka State Nodal Officers
State : Karnataka
SNo | Ministry Name | Scheme Name | User Name :
1 Department of Social Justice & Empowerment PRE-MATRIC SCHOLARSHIP FOR SC STUDENTS
2 Department of Social Justice & Empowerment PRE-MATRIC SCHOLARSHIP FOR SC STUDENTS
3 Department of Empowerment of Persons with Disabilities SCHOLARSHIP FOR TOP CLASS EDUCATION FOR STUDENTS WITH DISABILITIES
4 Department of Empowerment of Persons with Disabilities SCHOLARSHIP FOR TOP CLASS EDUCATION FOR STUDENTS WITH DISABILITIES
5 Department of Empowerment of Persons with Disabilities PRE MATRIC SCHOLARSHIP FOR STUDENTS WITH DISABILITIES
6 Department of Empowerment of Persons with Disabilities PRE MATRIC SCHOLARSHIP FOR STUDENTS WITH DISABILITIES
7 Department of Empowerment of Persons with Disabilities POST MATRIC SCHOLARSHIP FOR STUDENTS WITH DISABILITIES
8 Department of Empowerment of Persons with Disabilities POST MATRIC SCHOLARSHIP FOR STUDENTS WITH DISABILITIES
9 Department of Higher Education CENTRAL SECTOR SCHEME OF SCHOLARSHIPS FOR COLLEGE AND UNIVERSITY STUDENTS
10 Department of Higher Education CENTRAL SECTOR SCHEME OF SCHOLARSHIPS FOR COLLEGE AND UNIVERSITY STUDENTS
11 Ministry of Tribal Affairs SCHEME OF PMS, BOOK BANKS AND UPGRADATION OF MERIT OF ST STUDENTS CS
12 Ministry of Tribal Affairs SCHEME OF PMS, BOOK BANKS AND UPGRADATION OF MERIT OF ST STUDENTS CS
13 Ministry of Tribal Affairs PREMATRIC SCHEME FOR ST STUDENTS
14 Ministry of Tribal Affairs PREMATRIC SCHEME FOR ST STUDENTS
15 Ministry of Minority Affairs POST MATRIC SCHOLARSHIP SCHEMES MINORITIES CS
16 Ministry of Minority Affairs POST MATRIC SCHOLARSHIP SCHEMES MINORITIES CS
17 Ministry of Minority Affairs MERIT-CUM-MEANS SCHOLARSHIP FOR PROFESSIONAL AND TECHNICAL COURSES CS
18 Ministry of Minority Affairs MERIT-CUM-MEANS SCHOLARSHIP FOR PROFESSIONAL AND TECHNICAL COURSES CS
19 Ministry of Minority Affairs PRE MATRIC SCHOLARSHIPS FOR MINORITY
20 Ministry of Minority Affairs PRE MATRIC SCHOLARSHIPS FOR MINORITY