National Scholarships Portal Complaints/Feedback : scholarships.gov.in
Organization : Government of India
Service Name : National Scholarships Portal Complaints/Feedback
Applicable States : All India
Website : https://scholarships.gov.in/fresh/complaintsPage
You can now ask your question on this scholarship.
Ask here
(OR) Go to the bottom of this page for comments.
National Scholarships Portal Complaints/Feedback
To submit Complaints/Feedback online, you have to follow the steps mentioned below.
Related / Similar Post :
National Scholarship Portal NSP 2.0
Step 1 : Select the Applicant Type
Step 2 : Select the Complaint For
Step 3 : Enter your Application/Institute Login ID
Step 4 : Enter your Name
Step 5 : Enter your Email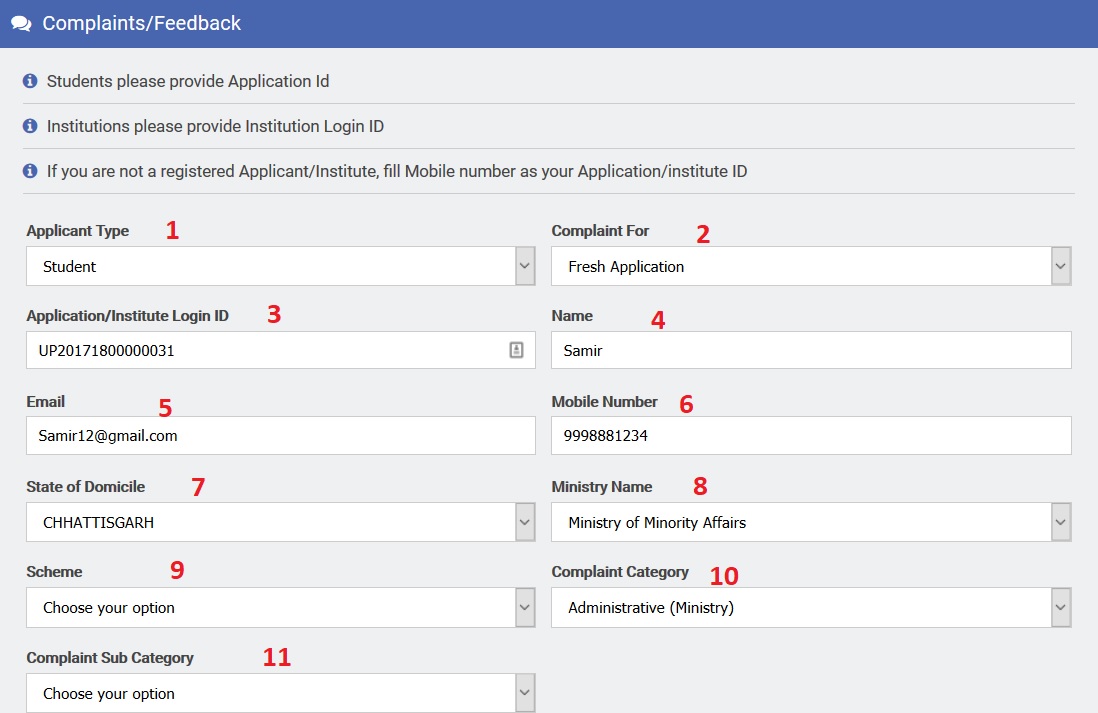 Step 6 : Enter your Mobile Number
Step 7 : Select State of Domicile
Step 8 : Select Ministry Name
Step 9 : Select Scheme
Step 10 : Select Complaint Category
Step 11 : Select Complaint Sub Category
Step 12 : Enter Complaint Description (Max Characters Allowed – 500 in English)
Step 13 : Enter Captcha
Step 14 : Click on the Submit button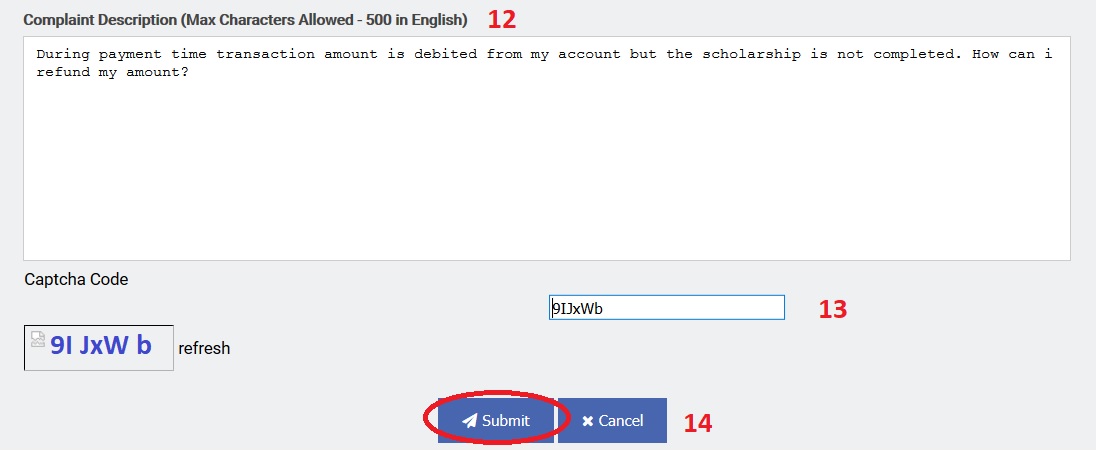 Note :
** Students please provide Application Id
** Institutions please provide Institution Login ID
** If you are not a registered Applicant/Institute, fill Mobile number as your Application/institute ID
View Complaint Status
Login to the "Complaint Portal" through User Registration ID to view the Complain Status
Step 1 : Enter Application/Institute ID/Mobile No(For Un-Registered Applicants/Institutes)
Step 2 : Enter Captcha
Step 3 : Click on the "View Complaint Status" button


Submit Complaints Here : https://www.scholarships.gov.in/viewComplaintStatus
Helpline Numbers : 040-23120500 (501 /502 /503 /504 /505) (Timings:10:30 AM to 05:00 PM on all week days)
FAQs
Question : Which fields in the application form are mandatory ?
Answer: Fields provided with red asterisk (*) mark are mandatory fields.
Question : What happens, if I detect mistakes after forwarding the applications to the next level?
Answer : You should separately inform the mistakes detected by you to the Institute/District/Region/State. The software provides facility at the level of the Institute & State to edit & correct limited information.
Question : Which fields Institute/State can edit ?
Answer : The Fields which can be edited are : Gender,Religion,Category,Profession,Annual Income,Aadhar Number,Disability,Day Scholar/Hostlar,Mode of Study,IFSC Code,Account No.,Admission Fees and Tution Fees.However, corrections made by the Institute/State, if any, would be conveyed instantly to the student through SMS/email.
Question : Do I have to fill up the online application in one sitting ?
Answer : No. You can fill up the online application in as many sittings as you wish, until you are satisfied that you have entered all desirable fields correctly. The software provides facility to save your application at every stage.
Question : What is UID number/Aadhaar Number?
Answer : UID number otherwise known as 'Aadhaar' number is Unique Identification Number given by Unique Identification Authority of India (UIDAI). Aadhaar is unique 12 digit number assigned after de-duplication of biometrics.
Question : Do I need to get my Aadhaar Card to apply for Scholarship ?
Answer : Aadhaar No. is not Mandatory for the Students in order to Register and fill up the application form online. Students can apply for Scholarship without entering the Aadhaar no. but in that case they have to enter Aadhaar Enrollment Id. For the States of Aasam, Meghalya and Mizoram Aadhar Number is not mandatory.
Question : Is there any permanent ID? How will it be communicated to me ?
Answer : Yes. An Application ID (Permanent ID) will be provided to the candidate once his/her Registration is done. It will be conveyed to candidates through SMS and e-mail. Students should memorize their Application ID as it will be required while applying for Fresh/renewal scholarship.